Everything you need for your recruiting process
ATS for Companies, Recruitment firms and Staffing Agencies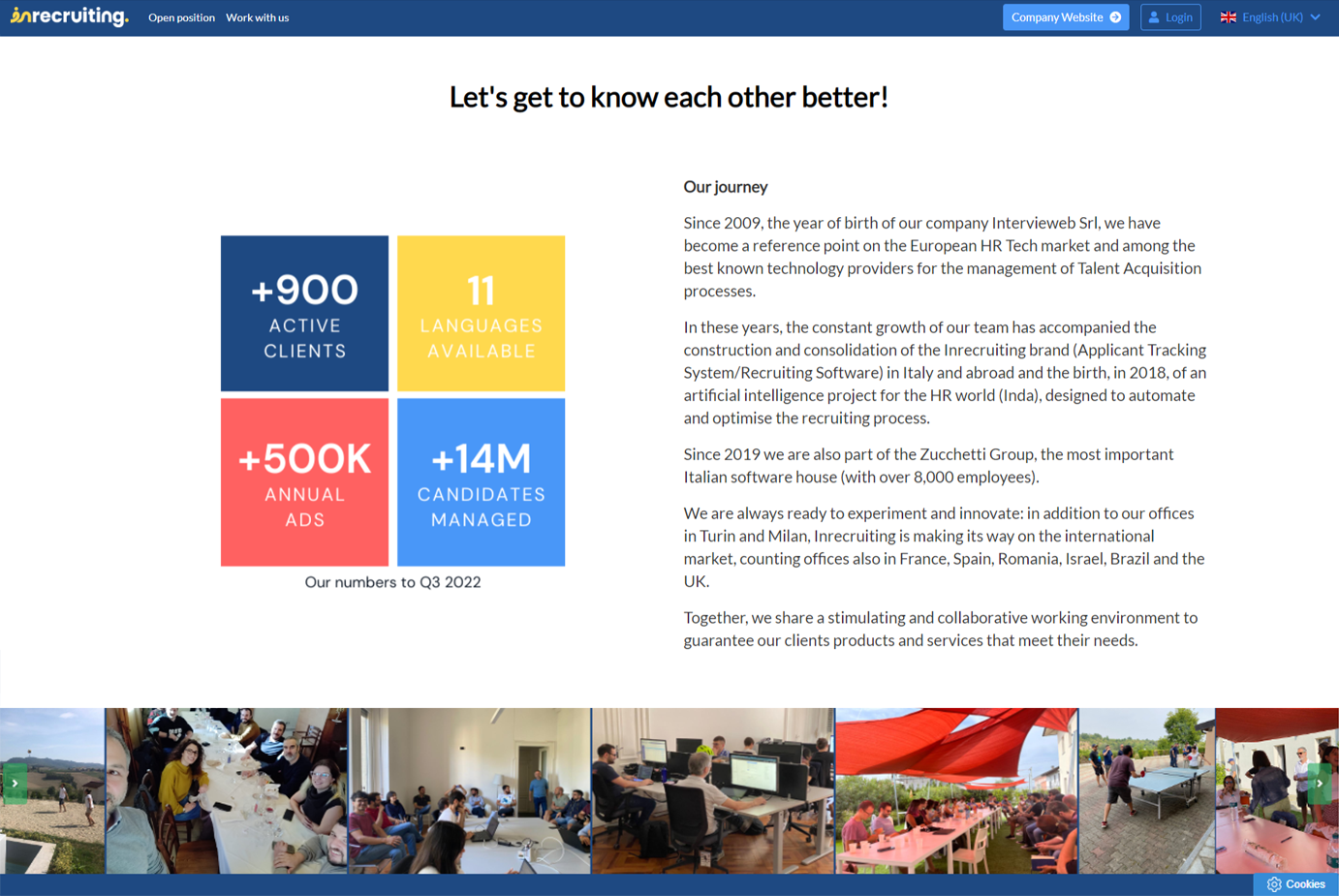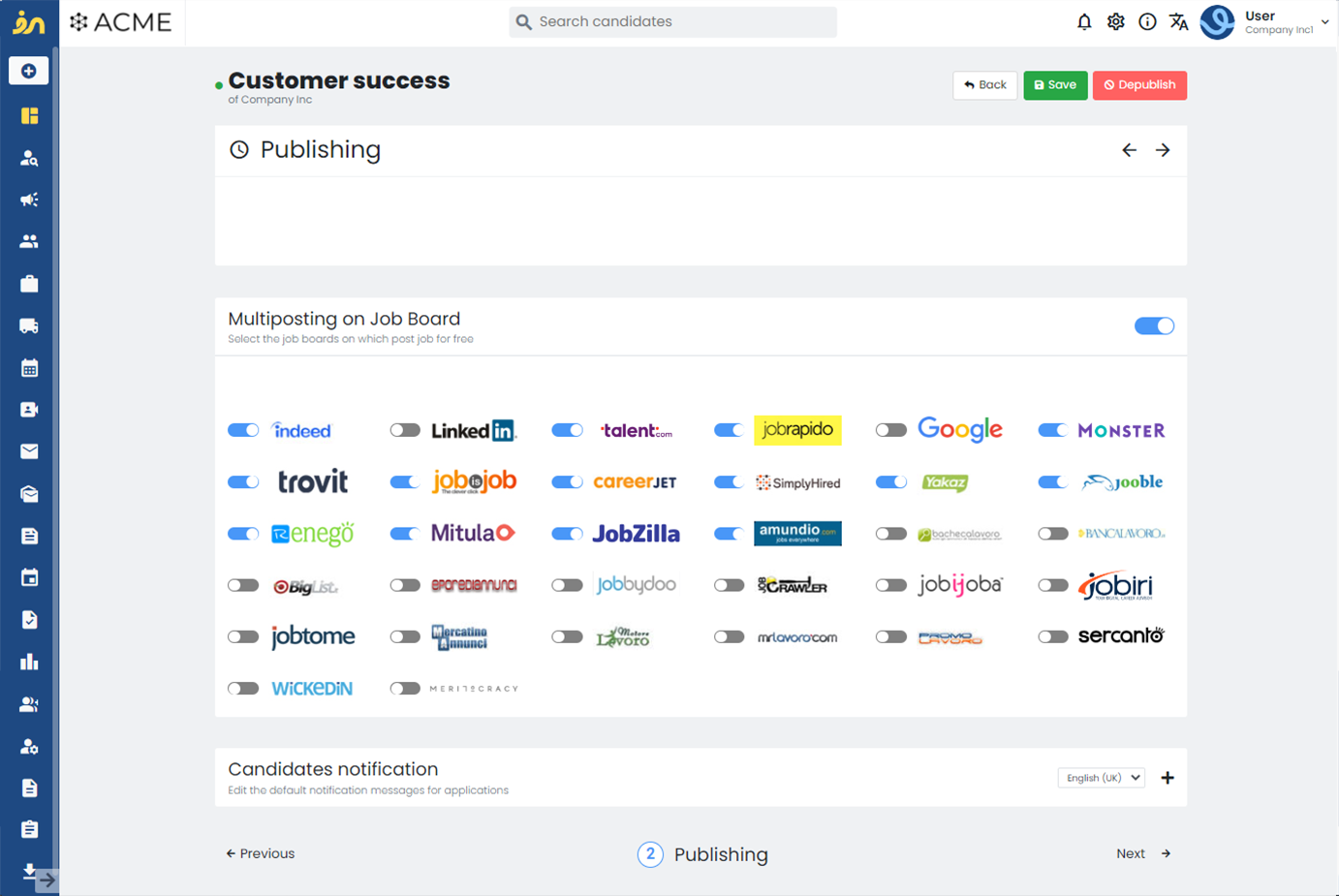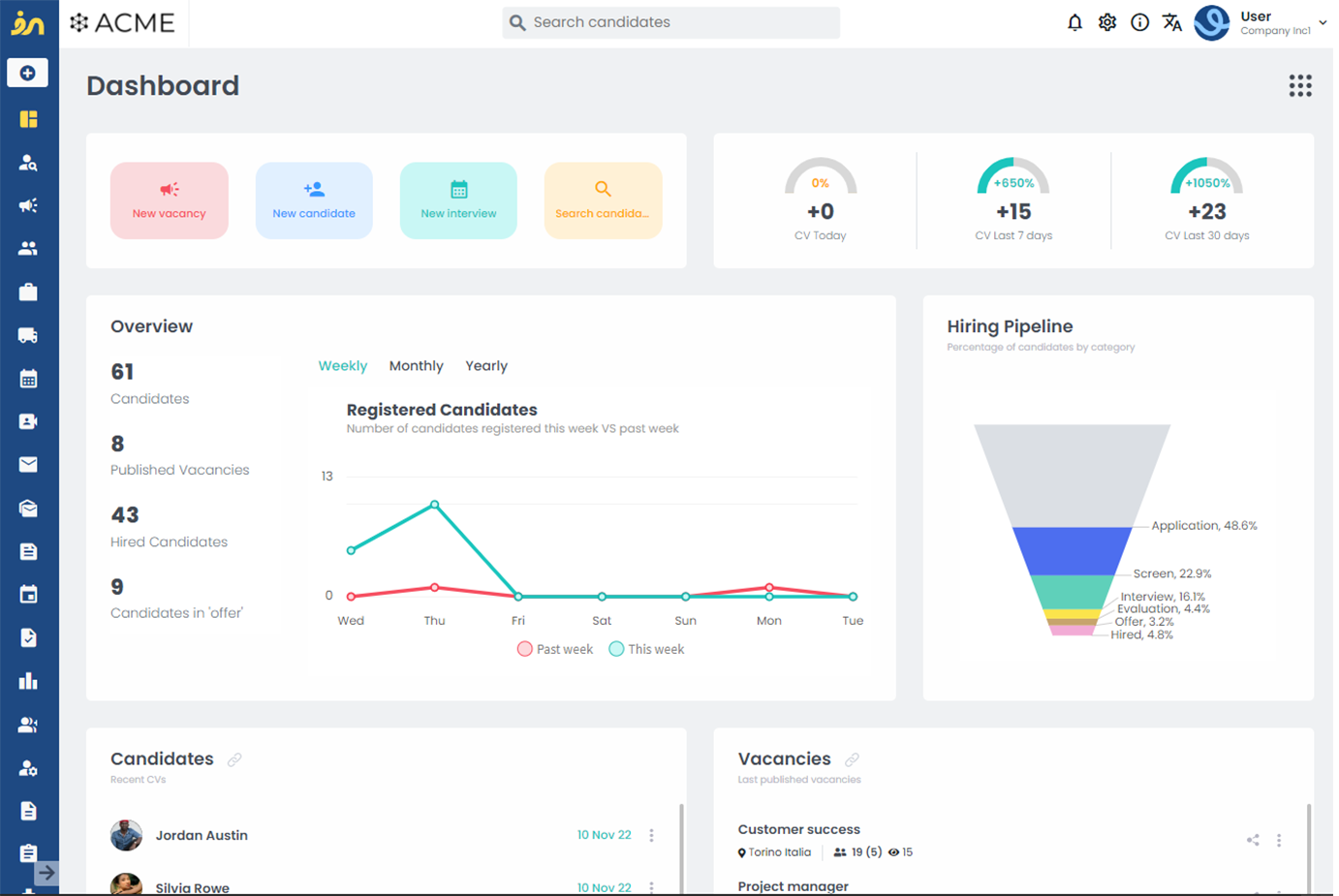 Do twice the work in half the time
Inrecruiting is the most powerful platform for the staff search and selection
Top features
Here are the features that make Inrecruiting the most powerful recruiting software.
Career page editor
Create your Career page with our editor and communicate your Employer Brand to attract the best talents.
Graphic customisation
Customise the graphics of your career site with texts, photos and logos.
Integration of vacancies
Insert our JavaScript code in your career site to display all your open position.
Publish vacancies
Guided creation of the job ads.
Application form
Customise the application form of each job offer with pre-screening questions.
Social recruiting
Share your job offers and your career site on the social media in one click only.
Multiposting of the vacancies
Publish your vacancies in one click on free and premium job boards.
Customise the fields
Decide what information to ask your candidates. You have access to a full customisation.
CV Database
Create your centralised candidate database and collaborate with your team on an only platform.
Candidate profile
Get a clear view of all the information you need to evaluate a candidate.
Semantic search
Find the right candidates thanks to the use of synonyms, the automatic sorting of CVs, the tags, the folders and many others.
Questionnaires
Create and administer questionnaires to screen CVs faster.
Candidate personal account
Each candidate has access to a personal account from which private data and job applications can be managed.
Planification of interviews
Plan interviews and manage your appointments with candidates in a quick way.
Communications
Send massive communications through automated messages, SMS campaigns and newsletters.
Video interviews
Simplify the evaluation of candidates thanks to the video interviews.
Scorecard
Use the evaluation form to standardise you recruiting processes and simplify the internal collaboration of your team.
Automatic Feedback
Automatise your communication with candidates and easily send your feedback after an interview.
CRM – customers and orders
Map your clients with the CRM and manage the orders received from your client companies.
Manage roles and restrictions
Implement different levels of access to the platform.
Reporting
Control your KPI and improve your performance thanks to the reporting.
Dedicated SMTP
Use the dedicated SMTP server for greater security and efficiency when sending mail.
SSO and SPID authentication
Simplify access to the platform with Single Sign-On for recruiters and enable SPID authentication for candidates.
GDPR
Our data is kept in an encrypted server with strong security measures. Even our partners are in line with the measures requested by the GDPR.